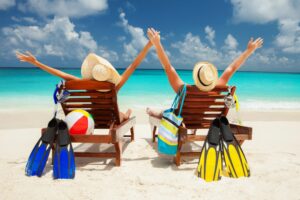 Summer is in full bloom. The sun is shining, the kids are out of school, and the beaches and pools are calling your name. Just please remember to follow these few steps to help keep you and your family safe and protected from the sun's harmful rays.
Apply a potent antioxidant serum (like Glow C + Brightening Serum) each morning.
Apply a mineral-based SPF (30 or higher). Non-toxic physical mineral sun blocks remain on the skin's surface and work by deflecting and blocking UVA & UVB rays.
Avoid outdoor activities during the hours of 10am – 4pm when the sun's rays are the strongest.
Make sure you wear a broad hat, drink plenty of water, wear your SPF, and reapply as recommended.
Do a Thorough Self-Check for Moles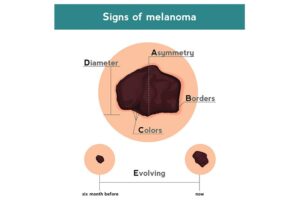 Remember your ABCDE's when performing self-checks:
Asymmetry – one half of the mole is unlike the other.
Border – irregular, scalloped, poorly defined edge of mole.
Color – different colors from one are to the other.
Diameter – melanomas are usually 6mm in size or greater.
Evolving – a mole that looks different than other moles on your body, or that is changing in size, shape, or in color.
Schedule Your Dermatologist Appointment for Your Yearly Check-up!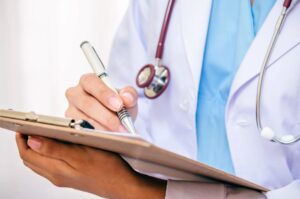 While you want to be performing self-checks at least monthly to check for any new or changing moles, you definitely want to have an annual check-up with a Dermatologist. A Dermatologist is trained to spot even the earliest signs of skin cancer and could save your life.
Weird Places Skin Cancer Can Hide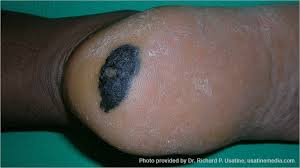 Your skin is your largest organ. Cancerous moles are sneaky, nasty little things that like to hide in odd places.
Scalp
Under finger and toenails
Eyes and eyelids
Soles of feet / palms of hands
Under a tattoo
Under your arms
The Ugly Truth About Skin Cancer
Skin cancer does not play fair. Statistically, 1 in 5 people will develop some form of skin cancer in their lifetime. Skin cancer does not discriminate against age, gender, or ethnicity. The higher the level of melanin in your skin, the more protected you are from burning from the sun's damaging rays, than someone with less melanin. However, anyone can get skin cancer. People with darker skin will typically present with cancerous moles on the soles of their feet / palms of their hands where you are normally less pigmented. It is extremely important to apply your SPF to your feet, hands, ears and neck as these are the most commonly overlooked places.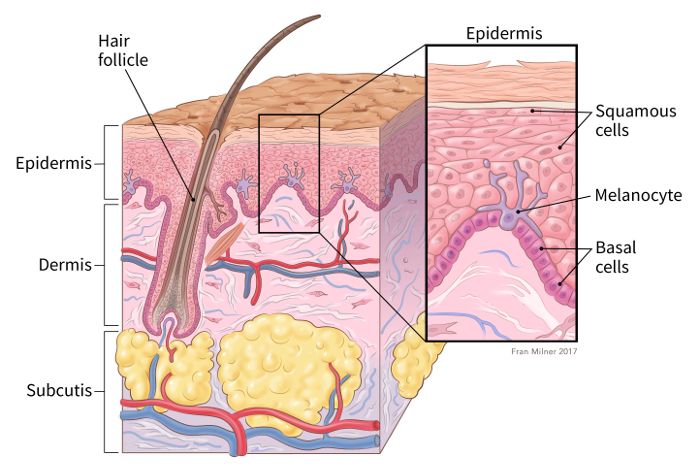 Skin Cancer at a Glance
Basal Cell Carcinoma – the most common form of skin cancer. Begins in the basal cells. Appears as a white, waxy lump or a brown, scaly patch on the sun-exposed areas of the body, such as the face and neck.
Squamous Cell – second most common form of skin cancer. Caused by abnormally accelerated growth of the squamous cells.
Melanoma – the least common form of skin cancer, yet the most likely to grow and spread. This type originates in the melanocytes, or cells that give our skin its pigment.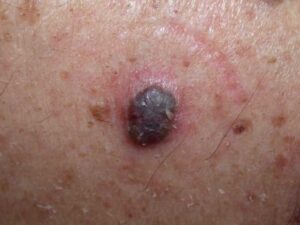 Basal cell, squamous cell, and melanoma are the three types of skin cancers. Most are curable with early detection. Melanoma can spread very quickly. If not caught, removed, and treated in time, it will spread deeper into the skin and throughout the body.
Click the link below for more information:
Take Care and Be Well!