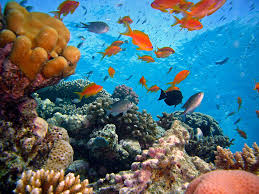 In a 2016 study, a team of international scientists found that a common chemical in many sunscreen lotions and cosmetics is highly toxic to juvenile corals and other marine life. Oxybenzone (or BP-3) is found in more than 3,500 skin care products worldwide for protection against the sun's harmful effects."

www.oceanservice.noaa.gov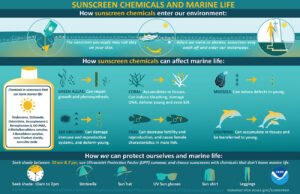 Countries That Have Banned Toxic Chemical Sunscreens:
The following locations have banned non-biodegradable sunscreens that contain harmful ingredients such as oxybenzone that have proven to be toxic and deadly to our reefs and other marine life:
U.S. Virgin Islands
Hawaii
Key West, Florida
Bonaire
Palau
Mexican Vacation Spots (Riveria Maya, Xel Ha, Xcaret Park, Garrafon Natural Reef Park, Cosumel, Playa del Carmen)
Physical/Mineral Sunscreen vs Chemical Sunscreen:
| | |
| --- | --- |
| Physical/Mineral Sunscreen | Chemical Sunscreen |
| Acts as a shield and deflects sun's rays on skin surface | Works like a sponge and absorbs sun's rays on the skin's surface |
| Zinc oxide (non-nano) | Oxybenzone (BP-3) |
| Titanium Oxide (non-nano) | Avobenzone/Avobenzine |
| Hats, UV blocking sunglasses and clothing | Octocrylene/Octinoxate |
| Seek shade during peak hours | Octisalate/Homosalate |
Why These Substances are Dangerous:
The above substances listed as common ingredients of chemical sunscreens penetrate the skin and enter the bloodstream. Many are eye and skin irritants, hormone disrupters, and carcinogens.
Read more:
https://stream2sea.com/ingredients-to-avoid/
You Still Have to Protect Your Skin:
"Skin cancer is the most common cancer in the United States.

1 in 5 Americans will develop skin cancer in their lifetime.

One person dies from melanoma (deadliest form of skin cancer) every hour."

American Academy of Dermatology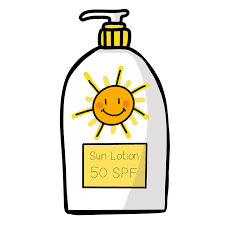 A Few of Our Faves
We hope you check out the natural, mineral sunscreens listed above. Remember, no matter the season or weather, if you do not need a flashlight to see outdoors, you are absorbing damaging UV rays.
Sun damage is accumulative, meaning it builds up in your skin over time. All those Summer days laying out in your best friend's driveway slathered in baby oil… those tanning bed sessions in the 90's…frying like a lobster at the beach… it's all in there, just waiting to turn into hyperpigmentation, age spots, or worse – skin cancer.
Please make sure you are getting your skin scans done at the Dermatologist's office every year and get those moles checked! It is not worth the risk to leave anything to chance.
Use your sunscreen, and make sure to check those ingredients first to keep you, your family, our reefs, marine life, and our planet, safe and healthy.
Take care and be well!