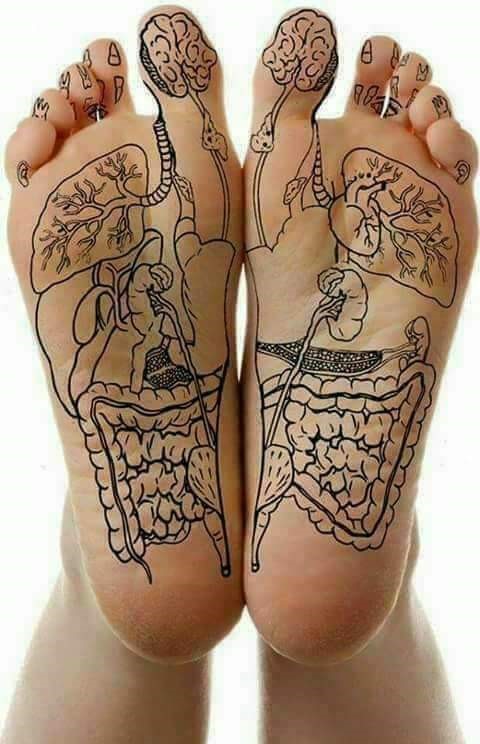 History of Reflexology
Reflexology (also known as "zone therapy") is an alternative medicine practice for activating the healing powers of the body through the hands, feet and ears. The holistic principle is that energy zones run throughout the body and the reflex areas in the hands and feet correlate to all the major organs, glands and systems of the body. Early Chinese, Japanese, Indians, Russians and Egyptians practiced the ancient beginnings of reflexology to promote good health. A painting in the tomb of Ankahamahor, dating back to 2330 BC, shows a reflexology treatment being performed.
In the 1870s, Sir Henry Head, a research scientist and neurologist from England, proved that a neurological relationship existed between pressure applied to the skin and internal organs. He was later knighted for his contributions to science. Sir Charles Sherrington was a Nobel prize winner who proved that the whole nervous system and body adjusts to stimulus when applied to any part of the body. Dr. William Fitzgerald was an American ENT surgeon who rediscovered "zone therapy", a theory originally discovered by ancient Chinese and Indian cultures five thousand years earlier.
Dr. Shelby Riley studied Dr. Fitzgerald's work, developed correlating charts, and added eight horizontal lines to the five longitudinal lines. In the 1930s, Eunice Ingham collaborated with Chinese doctors to further develop the zone therapy theory. Combining Eastern medicine's beliefs of the feet mirroring the body, they discovered that zone therapy could relieve pain and promote healing. By the 1940's, after many studies and publications, zone therapy, combined with compression massage, led to what we know today as reflexology.
Reflexology has today become one of the most popular complementary therapies available. Schools and institutes have been in existence since the 1960's to teach and continue this ancient alternative treatment to practitioners all over the world.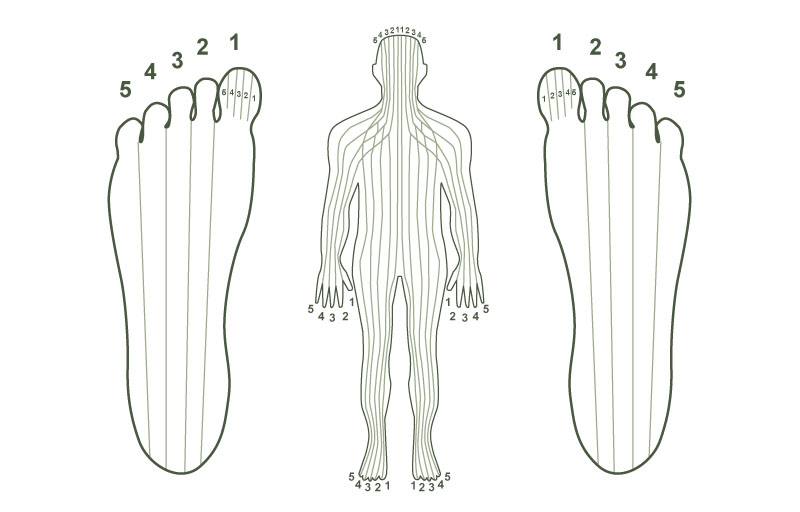 Benefits of Reflexology
Reflexology has been found to improve bodily functions and restore the body to a better state of balance by improving physical, emotional, mental and spiritual well-being.
Other benefits of reflexology include:
Inducing a state of deep relaxation
Reduces stress and tension
Improves the circulation of blood and lymph
Reduces inflammation
Encourages and aids the body's release of toxins
Enables the body to heal itself
Stimulates creativity
Promotes a more restful sleep
Helps promote energy flow throughout the body
Helps to boost immune system
Increases energy levels
Improves muscle tone
Releases endorphins and serotonin to help lift the mood and release pain-killing hormones.
Helps to treat ailments and assists in restoring health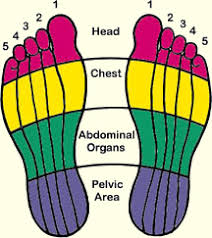 Theory
"Zone therapy" is the theory that the body is essentially divided into ten longitudinal zones of energy. There are five zones on each foot. Zone one is the most powerful as well as sensitive zone and includes the spine, brain, pituitary gland, nose, thymus and prostate.
While reflexology is commonly associated with the feet, it can also be applied to the hands and ears. It has been discovered that these body parts contain sensors that cause reflexes that effect correlating systems and organs throughout the body. By applying specific pressures, compressions and movements on those sensors, the practitioner can alleviate physical and emotional ailments.
---
Reflexology and the Systems of the Body
Muscular System-
Increases blood supply and oxygen to the muscles
Helps relieve pain, stiffness and muscle fatigue
Breaks down knots due to muscular tension, injuries and poor posture.
Relaxes tense muscles
Digestive System-
Helps promote movement of waste matter in the colon.
Helps relieve flatulence and constipation.
Helps relieve effects of irritable bowel syndrome and intestinal spasms.
Circulatory System-
Increases fresh oxygenated blood and nutrients
Assists in the elimination of toxins
Aids in balancing high and low blood pressure.
Lymphatic System-
Helps speed up lymphatic flow
Detoxifies the body
Improves immunity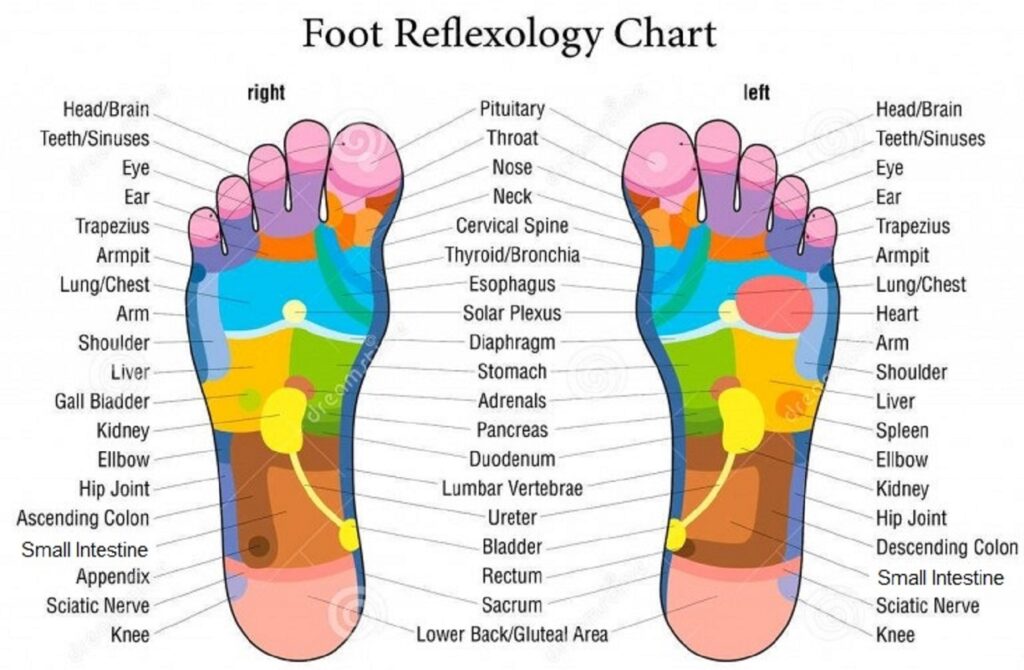 Respiratory System-
Helps relax chest muscles and improves breathing
Increases blood circulation and condition of lungs
Working on the diaphragm has a deep, relaxing effect on the body as a whole.
Nervous System-
Helps to release endorphins to ease pain
Working the solar plexus area can help to improve the functions of many of the organs
Helps to enhance the overall nervous system
Reproductive System-
Enhances reproductive health
Encourages health of the reproductive organs by delivering oxygen and nutrients
Aids in removing waste products from the reproductive system by improving lymph drainage and reducing fluid retention.
Endocrine System-
Reduces the number of stress hormones released
Helps to regulate menstruation
Balances hormonal levels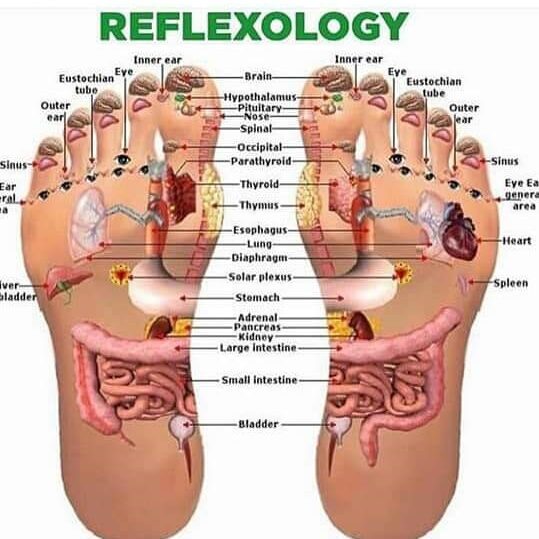 Skeletal System-
Eases stiff joints
Loosens scar tissue surrounding the joints
Increases mineral and nutrient supply to the bones by increasing circulation.
Urinary System-
Increases bladder function
Increases kidney function
Causes more urine to pass through the bladder due to the increase of lymph flow.
---
Emotions and Reflexology
| | |
| --- | --- |
| unexpressed emotion | esophagus |
| heartache | heart |
| anxiety | solar plexus |
| excitement | solar plexus |
| feeling burdened | shoulders |
| lack of support | back/spine |
| anxiety/holding onto resentments | bladder/colon |
| clarity | eyes |
| fatigue | thyroid/adrenals |
| love and security | heart |
| change/moving forward | joints |
| irritation | sinuses |
| expression | throat |
"Recent studies show that hand reflexology reduced anxiety for those about to undergo certain procedures, such as coronary angiography."

Reflexology-UK.net
---
Contraindications of Reflexology
People with the following conditions should abstain from participating in reflexology treatments:
Infection, disease or fever
Under the influence of alcohol or drugs
Diarrhea or vomiting
Pregnancy (especially in the first trimester or high-risk status)
Undiagnosed lumps or swelling
People with the following conditions may receive reflexology treatments with consent from their medical physician:
Pregnancy
Cardiovascular conditions (thrombosis, phlebitis, hypotension, hypertension, and heart conditions)
Hemophilia
Medical edema
Osteoporosis
Arthritis
Nervous/psychotic conditions
Epilepsy
Recent operations
Diabetes
Asthma
Neurological conditions (MS, Parkinson's disease, cerebral palsy)
Trapped, pinched, inflamed nerves (sciatica)
Cancer
Kidney infections
Whiplash
Slipped discs
Acute rheumatism
Certain prescribed medications
*Practitioners of reflexology work holistically with their clients and aim to work alongside traditional healthcare to promote better health for their clients. Reflexology should not be used to diagnose or treat any disease*
Sources:
Take care and be well!